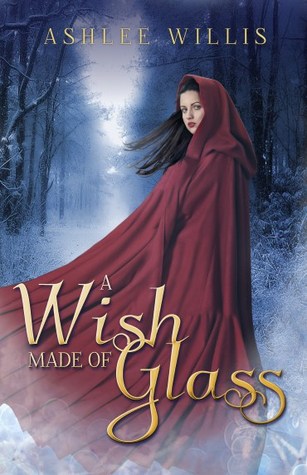 A Wish Made of Glass
by Ashlee Willis
4/5 stars
Deep in a forest glade, the fey folk dance with Isidore, a young human child. Their kinship is the very fabric of her childhood. When her mother dies and her world darkens with sorrow, Isidore finds her belief in the fey folk wavering.
The love of her new step-sister, Blessing, proves an unexpected gift in her time of need. Yet even as their friendship blooms, Isidore begins to see that Blessing is everything she herself has always wanted to be, but is not. Jealousy grips Isidore as she watches this beautiful new sister steal away all she holds dear.
Driven to desperation, Isidore turns to the fey folk once more. She has only one wish to claim from them, one chance to make things right. But she must tread carefully. For wishes, like hearts, are easily broken. And obtaining the one thing she desires could mean destroying the one thing she truly needs.
I recieved this kindle ebook from the author in exchange for an honest review
This is my first time doing a book review, so let's see how it goes.
 I had mixed feelings about this book. I really liked a lot of things about it, but there were a couple of things big enough to prevent me from giving it five stars.
First of all, the things I liked:
I really liked the writing. It had some wonderfully vivid details and made me feel all kinds of emotions, which I always love.
I loved all the side characters, especially Blessing and that servant who's name I can't remember. I loved how Blessing and the step mother weren't played as villains like they usually would be. The prince managed to be an interesting and likable character despite having such a brief appearance.
I also loved how the glass slipper was used in such a unique way, and the fairies (or fey folk, as they're called) were lovely.
The theme was quite unexpected for a fairy tale retelling, and I don't think I've ever read a book with that as the main theme. Then again I haven't payed much attention to themes till recently.
Now the things I didn't like so much.
I didn't like Isidore. I liked her starting out, but later she became so unlikable and I just couldn't root for her. However, it was kind of the point of the book that she was unlikable most of the time, and my inability to root for her is more because I just don't like unlikable characters than any fault of the author's. I don't mind a 'boring' protagonist, but an unlikable one – even if it's deliberate – just puts me off. I also awkwardly forgot her name half way through, but I have a tendency to forget random things so that's probably just me.
I also felt the ending was a little rushed. Just making it a little clearer what Isidore's realization was and having her think about her decision a little beforehand might have helped it feel less hurried.
All in all, it was enjoyable. It took an interesting twist on the original tale and had a unique theme for a fairy tale retelling. If you like that kind of thing, I'd definitely recommend it. If you're looking for a lighthearted, close-to-the-original fairytale retelling, this probably isn't for you.