Well, this is a day late but oh well. This week's Top Ten Tuesday was a freebie, so I decided to do my favourite female characters, which is something I've been wanting to post about for a while now. Knowing me, a good half of these will be from TV shows rather than books. I'm only going to use one character each per book/show so we don't get a bunch from the same thing. So here are my favourite female characters:
1. Katara from Avatar: The Last Airbender
Katara is one of my favourite characters ever. I could go on for a while about how why I like her so much, but I love how she's a mature, powerful waterbending master but still feels very much like a real girl.
2. Iko from The Lunar Chronicles by Marissa Meyer
Iko is hilarious. I don't think a character's ever made me laugh as much as she has. I cried when Spoilers she 'died' in Cinder. Spoilers ended
3. Rarity from My Little Pony: Friendship is Magic
Yeah I'm sure anyone who knows me well was expecting My Little Pony to show up on this list. Although Fluttershy is my favourite pony, I do like Rarity best as a character. She's utterly fabulous, and can be rather whiny at times, but she makes up for it by being hardworking, intelligent and generous. Unusually for a show aimed at small children, she even runs her own business, and is getting really good at it.
4. Anne Shirley from Anne of Green Gables and it's sequels by L M Montgomery.
The Anne Books were my favourite childhood series along with the Chronicles of Narnia, and the main reason was Anne Shirley herself. I think I've mentioned what I love about her before, but I especially love her quirky, poetic way of talking and wild imagination.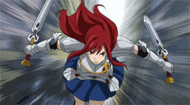 5. Erza Scarlet from Fairy Tail
I love almost every character in Fairy Tail, but Erza's one of my favourites. At first glance she seems like your stereotypical 'strong female character' who just kicks butt and that's pretty much it, but she actually goes a lot deeper. She can be kind and gentle, and she can sometimes be completely ridiculous and go along with whatever silly antics the others are up to.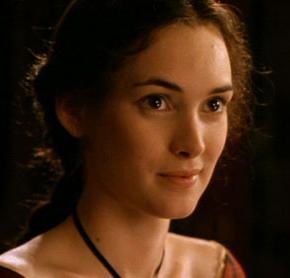 6. Jo March from Little Women and it's sequels by Louisa May Alcott
Jo has always been my favourite of the March sisters. She's funny and smart, and very independent and forward-thinking for her times.
7. Pearl from Steven Universe
Pearl is my favourite gem in this show. She's graceful, intelligent, and organised to a fault, the last of which I can really relate to. I'm not sure why, but the Pearl-centric episodes are often the ones that make me cry. (I love it when fictional things make me cry)
 8. Annabeth Chase from the Percy Jackson books and Heroes of Olympus by Rick Riordan
Ah, Annabeth. Unfortunately it's difficult to put my thoughts on her into words and I'm running out of time, so let's just say I love everything the rest of the fandom loves about her. (approximately)
9. Starfire from Teen Titans
Again, Starfire is another character who can kick butt but is also kind and gentle. (I like these kinds of characters, in case that wasn't obvious) I love how she usually tries to take the peaceful route if she can, though.
10. Ssilissa from The Larklight Trilogy by Philip Reeve
Ssilissa falls into the same category as Erza and Starfire, (I'm really running out of time on this post, so sorry for being rather brief in my description for the last few) but she also gives excellent advice when needed and happens to be the only female alchemist in the Solar System (at least for the first book and a bit)
So those are my ten favourite female characters. Who are your favourites?